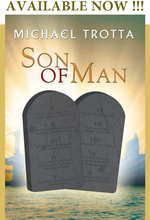 Have you ever wondered why the majority of Christian, Muslim and Jewish prays end with the declaration "
Amen
?"
It's no coincidence that all three faiths owe their beginnings to the ancient Hebrew religion and its
Tanakh
. But where did the Hebrew tribes obtain their religious foundation? And how does this common origin play into the world in which we live today?
Whether originally pronounced A-men, A-mon or Am-non:
Find out the answer to this age-old question and to many more mysteries of Western and near-East enigmas by reading my new sci-fi/thriller
SON OF MAN.